So we're leaving soon for North Dakota to visit family for Christmas. This means that I get to make peanut butter chocolate balls! I love sharing, but truth be told, I make them for selfish reasons. A lot of the goodies people put out at Christmas just aren't vegan. So here I come with a big tupperware container full of these puppies and problem solved.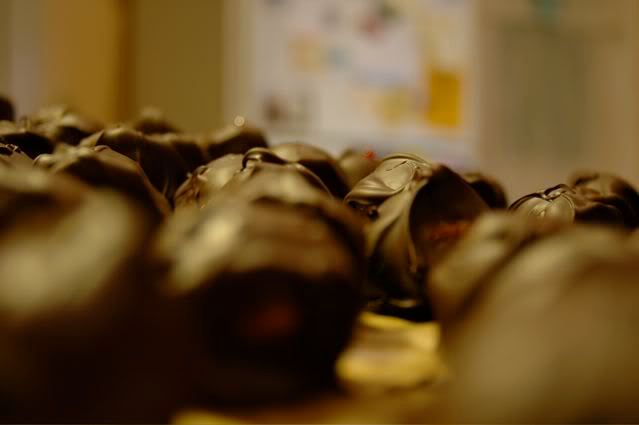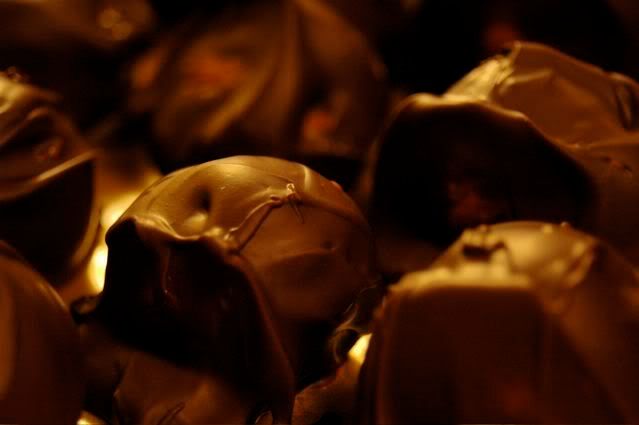 Here's the recipe:
Ingredients:
-1 jar peanut butter (the kind that separates)
-1 package of graham crackers (there are usually 3 packages per box, the Keebler original are the only vegan ones I can find)
-2 cups of powdered sugar
-1 stick of softened margarine (don't melt it, just soften it)
bunch of vegan chocolate chips (it may take a couple bags, depending on the chips)
Method:
-Crush graham crackers into almost a powder (I use a rolling pin)
-Combine graham crackers with the powdered sugar, peanut butter and margarine in a large bowl.
-Mix together with your clean hands (or a spoon) until everything is well combined and the color is consistent. The stuff shouldn't be sticky or gooey. If it is, add more crushed graham crackers. Roll into balls about an inch in diameter. You'll probably have anywhere from 25 to 40 balls.
-Melt chocolate chips in a double boiler. I use an old frying pan with some water in it and then put a sauce pan in the water. Put the chips in the sauce pan, turn the heat on low.
-Drop a ball in the fully melted chocolate. Use a couple spoons to coat the ball and then place it on a sheet of waxed or parchment paper (which is in turn laying on a cookie sheet or something else you can pick up and put in the fridge). Um ... repeat for each ball.
-Once they're all coated put them in the fridge and let them cool off for at least a couple hours. Yeah, just
try
to wait that long.
-Best if served directly from the fridge, since they can get a bit melty if sitting out too long. I hear using baking chocolate will take care of that problem, but I haven't tried it yet.
These freeze wonderfully.
I also made some peanut butter rice crispy bars for the second time in less than a week. The recipe for those can be found
here
. I didn't take any photos because, well, they're just rice crispy bars. And the photo on the page I just linked to looks pretty much how mine look.